For me, that has got to be Tweedy's lewisia.  Known for years as Lewisia tweedyi, it was recently changed to Cistanthe tweedyi, which has caused a mild furor among us wildflower nerds.  I spoke in March to the North American Rock Garden Society annual meeting and when I said I was reverting to the use of Lewisia there was loud applause!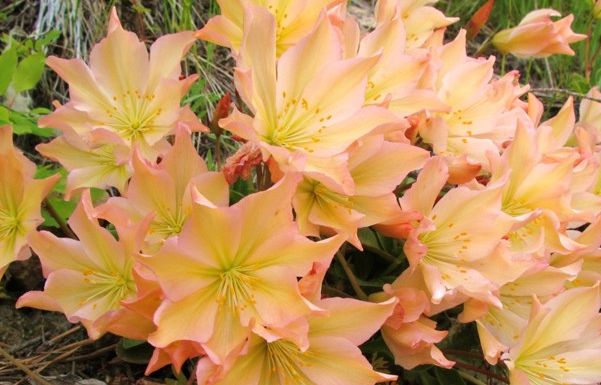 The generic epithet Lewisia commemorates Meriwether Lewis.  The specific name, tweedyi, refers to Frank Tweedy, a topographer who surveyed the area in the 1880's.  This choice plant will very soon begin to bloom in its native habitat, and the ones in my nursery will be at peak bloom within the week.  Although it is not a rare plant, its range is limited mostly to the Wenatchee Mountains of Chelan and Kittitas Counties.  It grows from about 1300′ elevation in the canyons up to 6500′ on the ridge tops; with this wide range in elevations, you can often find some blooming from early May until the end of June.  At the lower elevations they are usually found growing with some shade during the hotter parts of the day, maybe with high shade provided by Ponderosa pine or Douglas fir, and I often see them growing with round-leaved alumroot, Heuchera cylindrica, and  taper-leaved penstemon, Penstemon attenuatus.   They are not very hard to grow in Central Washington gardens, provided they get protection from hot sun and good drainage.  West of the Cascades, in California and elsewhere there are folks who go to great lengths to grow them, with limited success.
Jaw-dropping displays of blooms are found in the hills above the Wenatchee and Entiat Valleys.  Along one 200′ stretch of road above Swakane Canyon last spring I saw innumerable color variations (and took an equal number of photos!)  Aficionados have their favorite areas; I collect seeds up Derby Canyon so I can more easily keep an eye on their development, and great populations can be found in Tumwater Canyon and on Tumwater Mountain, along Tronsen Ridge, and Tillicum Creek and Mills Canyon roads out of the Entiat.  Go find them!