About the Nursery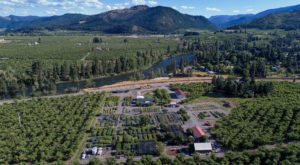 Derby Canyon Natives, located along the Wenatchee River near Peshastin, WA, is a specialty nursery growing wildflowers, grasses, shrubs and trees native to Central Washington. Since 2002 we have provided container-grown plants produced from seeds and cuttings collected from the region's varied habitats, including shrub-steppe, forest and riparian zones.
All plants are source-identified (traced to their collection location) and locally adapted (grown in the Wenatchee Valley and acclimated to Central Washington conditions). Derby Canyon Natives produces over 120 species of plants for sale that are suitable for:
landscaping – using native plants around homes and businesses to create areas that are beautiful, need few or no inputs of water, fertilizer, pesticides and pruning, and are attractive to birds and other wildlife.
restoration – restoring and revegetating disturbed areas following construction, road-building, fire and other activities that have altered or damaged native habitats.
Container-Grown Plants
We grow all of our plants in containers, ranging from 4 cu. in. (for grasses) to 1 gallon and larger (for many shrubs and trees). Containerized plants, compared with bareroot stock, allow flexible planting timings, have less transplanting shock and are easier to plant correctly, resulting in improved plant growth. Most species are grown in tube-shaped containers (plugs) that create a deep root system and aid plant establishment in native and non-irrigated habitats.
Seed
We sell seed of over 15 species of native grasses, as well as four grass seed mixes blended for different habitats.
Contract Growing
We contract grow species in our plant list, as well as others not listed, to meet the particular needs of individuals, companies and agencies. We have contract grown over 500,000 plants to date for various customers, including the US Forest Service, Washington State Departments of Fish and Wildlife, Natural Resources and Transportation, the Bureau of Land Management, The Nature Conservancy, Conservation Districts and restoration companies. Custom seed and cutting collection is also available.
Gift Certificates
Gift certificates are available in any amount and can be provided by mail or digitally.  Contact us by phone or email with your needs.
Retail Sales & Hours
The nursery will be open for retail sales on in the spring (April – June) and fall (September and October). Hours are Friday 9AM – 5PM and Saturday 9AM – 1PM. During the rest of the year, we are open by appointment only.