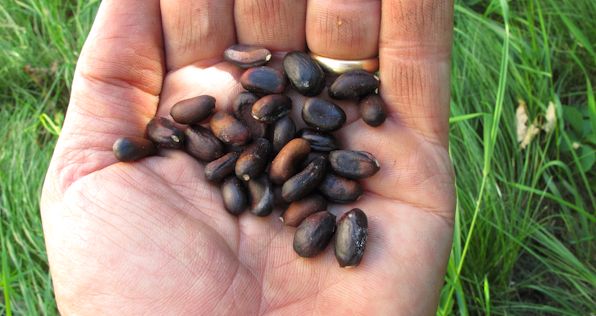 What native plant from Chelan County yields such large and distinctive seeds?  Why, it's our only native peony!  Brown's peony (Paeonia brownii) is one of only two peony species native to North America and the only one in Washington; all others are found in Eurasia.  It was one of the most prized specimens found by the intrepid Scottish explorer David Douglas in his forays through this region in the early 1800's.  Brown's peony is named for Robert Brown, a Scottish botanist, and upon arrival back in Britain was soon hybridized with its Asian kin to produce some of the garden peonies available today.  For those of you into Greek mythology, the Peony family (of which Paeonia is the only genus) is named for the Greek godlet Paeon, a student of the the god of medicine, Asclepius (from where we get Asclepias, the genus of the milkweed.)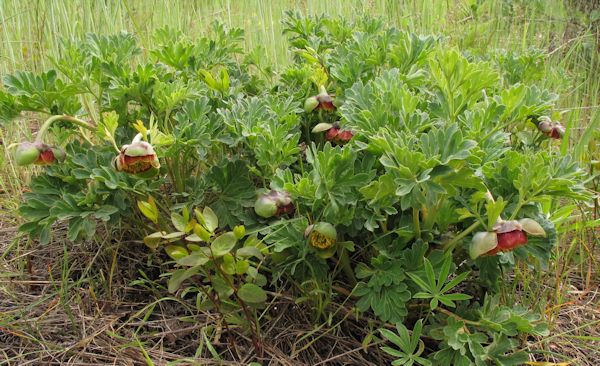 There is no other plant in the state it could be confused with.  Its distinctive gray-green, leathery foliage and strikingly unusual flowers set it apart from all others.  In Washington it grows along the east slopes of the Cascades towards the drier parts of the Ponderosa pine zone, as well as in the Blue Mountains, and overall its range extends from southern British Columbia through Oregon to the Sierra Nevada in California.  Although not a rare plant it is found in discrete, scattered populations, seeming to prefer dry sites with fairly deep soil (it develops a deep, large root) and the company of several other species, including arrowleaf balsamroot, silky lupine and bitterbrush.  The hill behind my house in Peshastin has a large population, from where the above seeds were harvested on July 4th.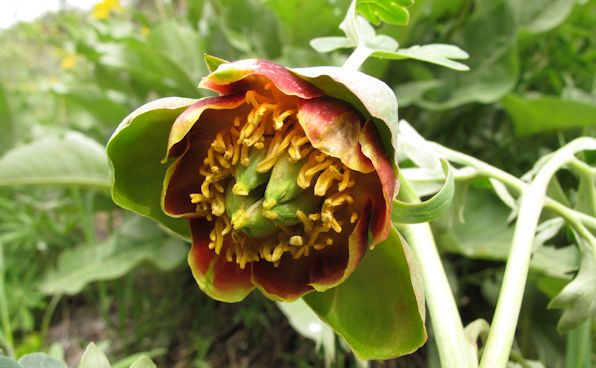 Growing Brown's peony in the nursery presents a special challenge.  The seeds must be sown fresh and, though they need summer drought and therefore little water in the nursery, they will still germinate in the summer but only by extending a root further down into the soil; the cotyledons don't emerge above the soil until the end of the following winter (called hypogeal germination, if you want to know!)  In addition, I tell customers that they can't expect a bloom for about four years with these plants, as they must develop their root reserves first.  As with balsamroot, this large root allows the peony to withstand not only drought but also browsing and fire, and sometimes flowers just have to wait.  If you are a very patient native plant gardener, I may have just the plant for you!