My Tronsen Ridge Suite
Last week I made a seed collecting foray to Tronsen Ridge above Blewett Pass, escaping the smoke-filled Wenatchee Valley.  This area is easily one of the top spots for wildflowers in Central Washington, filled with a great diversity of species, including many uncommon and endemic ones.  There are great views of the Stuart Range, Mt. Rainier and Glacier Peak and, starting your hike at 4500′, it doesn't take long to reach the choice alpine plants in the natural rock gardens from 5400′ to 6000′.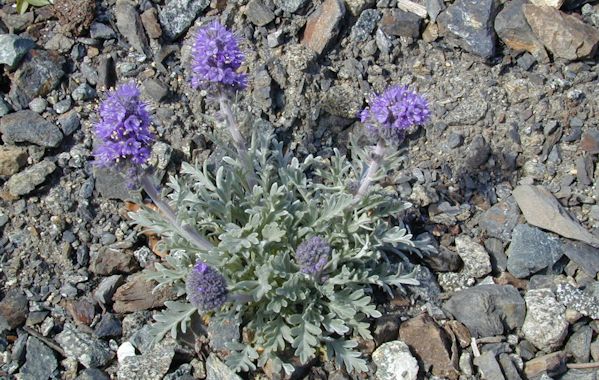 Silky phacelia (Phacelia sericea)
The open, rocky highlands have many plants with similar growth habits, adapted to the dry and exposed conditions with low, rounded forms and gray to gray-green foliage.  Species like coyote mint (Monardella odoratissima) have tighter growth with smaller, grayish leaves at this elevation when compared with the the larger, green form growing on the slopes behind my nursery in Peshastin.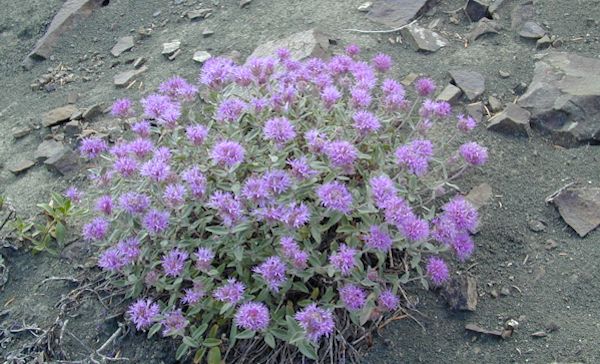 The alpine form of coyote mint or mountain monardella
Six species of buckwheats (Eriogonum spp.) are found within a half-mile stretch along the ridge, all more compact than their lower elevation kin.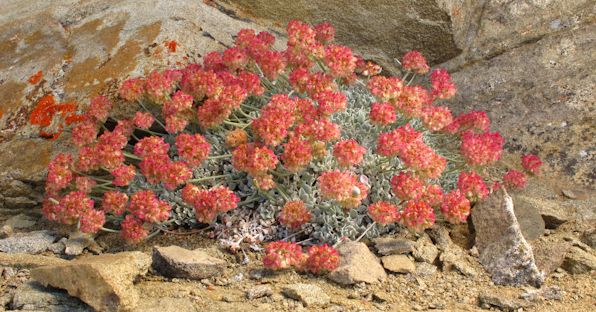 Cushion buckwheat (Eriogonum ovalifolium var. nivale) at 6000 ft on Tronsen Ridge
The wildflowers are still a treat in early August; the most abundant blooms will be found from early June through July.  A year ago I had decided I needed to cut back on growing so many wildflowers to focus nursery plant production on the more profitable woody species.  Hiking along Tronsen Ridge, however, makes me appreciate anew these nearby floral gems.  So, I collected seeds of species I used to grow (including cushion buckwheat (Eriogonum ovalifolium), silky phacelia (Phacelia sericea) and showy Jacob's-ladder (Polemonium pulcherrimum) , as well as new ones to try (snow douglasia (Douglasia nivalis) and spotted saxifrage (Saxifraga bronchialis).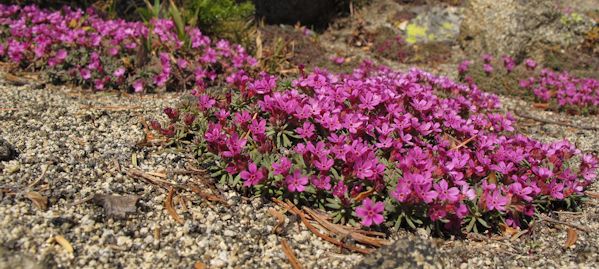 Snow douglasia (Douglasia nivalis), only found in the central Cascades of Washington
In recognition of the botanical splendor of this ridge I consider them all part of the "Tronsen Ridge Suite".  If alpine and rock garden plants are your thing I hope you can stop by the nursery next year and see what we've grown from that area.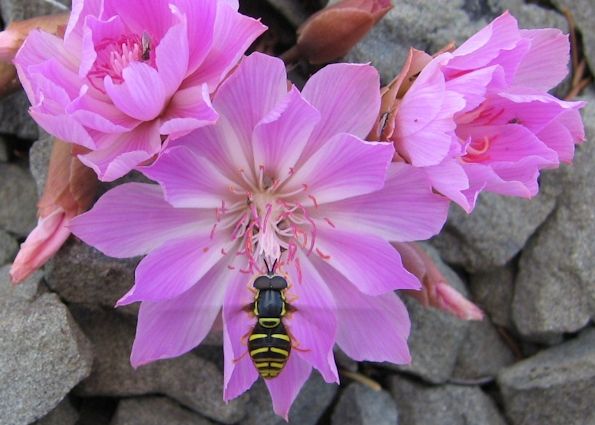 Bitteroot (Lewisia rediviva) on Tronsen Ridge
You will find plant lists for Tronsen Ridge on the Washington Native Plant Society web site, //www.wnps.org/plant_lists/counties/chelan/chelan_county.html .