Orange honeysuckle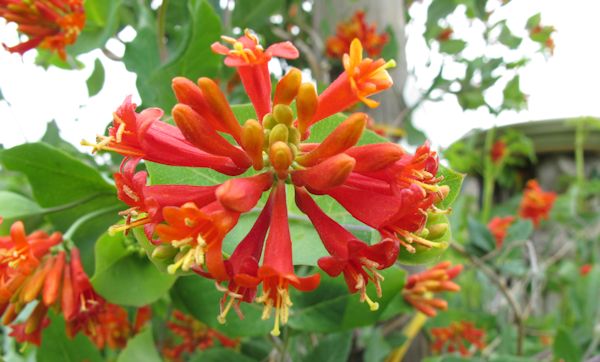 You can find orange honeysuckle (Lonicera ciliosa) climbing trees and clambering over the ground in the woods on both sides of the Cascades; in our area east of the mountains I see it mostly above 2000′ in mixed Ponderosa pine-Douglas fir forest.  The bright orange-red flowers really stand out in their late May to June bloom period.  Hummingbirds at that time are all over the flowers on the large vine in my nursery.  The flower color and shape are key indicators that this is a hummingbird plant.  Unlike introduced ornamental species, this honeysuckle has no fragrance that I can detect.  The large red fruits that appear in the late summer are attractive but inedible (for us, at least; no doubt some birds enoy them because they disappear soon enough).
I've had little success growing orange honeysuckle from seed, but semi-hardwood cuttings, taken in July, root well.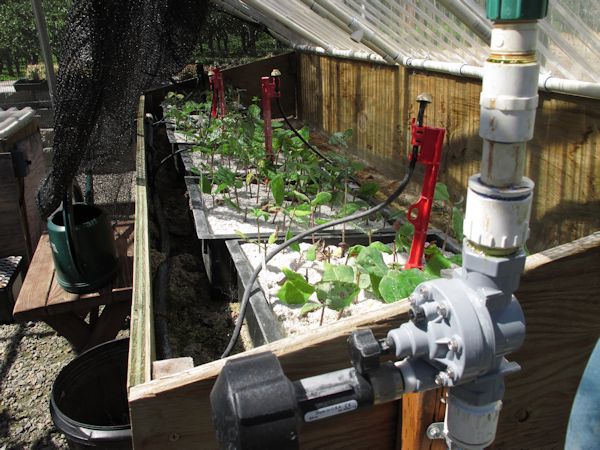 With the aid of rooting hormone and a mist bed, nice roots form within four weeks; we potted up over 150 rooted cuttings today.  We could have nice gallon plants next summer with 2-3′ of growth.  If you've got a partially shady spot, and room for it to climb (no problem with 10-15′ of growth), then I may have a vine for you!