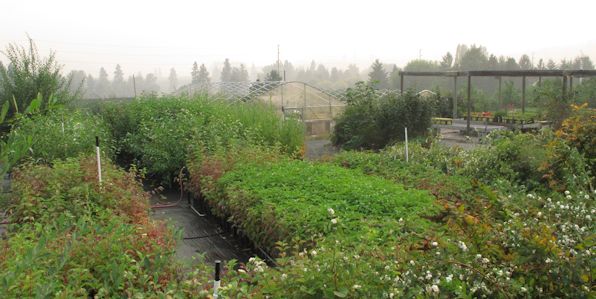 A smoky time in the nursery; normally you'd see hills and mountains in the background of the above photo.  The dramatic lightning storm on September 8th sparked well over 100 fires in Central Washington and some of these have continued to grow and grow.  We're experiencing an unusual stretch of hot and stagnant weather and the smoke levels in the Wenatchee Valley range from unhealthy to very hazardous, with little relief in sight.
In the Wenatchee Mountains up to 20,000 new acres will have burned today, and there is very little that can be done direct or slow this spread.  Many and varied habitats have already burned, including  shrub-steppe, open Ponderosa pine forest and dense stands of Douglas fir and Western larch.  I know this area well and do most of my seed collecting, and hiking, in this area.  Depending upon your perspective and objective, in some cases these fires can be considered beneficial, leading to increased species diversity and growth in the years ahead.  It has become widely accepted that the policy of wildfire suppression over the past 100 years has helped create forests that are more fire-prone, leading to catastrophic, stand replacement fires.  Recent articles, in High Country News and The New York Times (//www.nytimes.com/2012/09/18/science/earth/forest-survey-questions-effect-of-prescribed-burns.html) have suggested that there can be value in such large blazes.  That viewpoint is debatable, particularly in Ponderosa pine forests; nonetheless, I'll be watching with great interest the recovery and regeneration of these burned habitats.
In some parts of the newly burned areas there is a need to limit erosion and minimize the establishment of invasive weeds.  Seeding with native grasses and forbs is a key part of restoring the most heavily disturbed areas following fire, like firelines and cat trails.  I buy native grass seed each year from BFI Native Seeds, out of Moses Lake, the largest (and best!) native seed producer in our state.  I mostly resell this seed as five to six species blends appropriate for different precipitation zones in our region.  When I picked up this year's seed in August I was impressed by the huge quantities of seed, of many grass species and forbs, that were stockpiled in the BFI warehouse.  However, I was informed that with all of the acreage burned in the West this year they don't have nearly enough for the demand.