The oak of Central Washington
There is but one species of oak native to Washington state, Oregon white oak or Garry oak (Quercus garryana).  It grows west of the Cascades from Vancouver Island to California, but occurs east of the mountains only in Yakima and Klickitat counties… except for a fairly small population found between Cle Elum and Ellensburg, separated by 60 miles from their closest "cousins".  I don't know how this outlying population came to be there; perhaps Native Americans transported acorns north many centuries ago.  This northernmost population of oaks may be the hardiest of the species, and may do well in other areas of Central Washington.
I've been propagating seedlings from these impressive trees for several years now.  I collect acorns in the fall, trying to collect enough before the Steller's jays and weevils get them all.  I store them in moist media in the fridge and check them every two weeks or so to pull out and plant the acorns that have a root poking out.  They grow a prodigious tap root, so I plant them in tall narrow containers; little trees in the summer, no more than 2″ tall, can have a root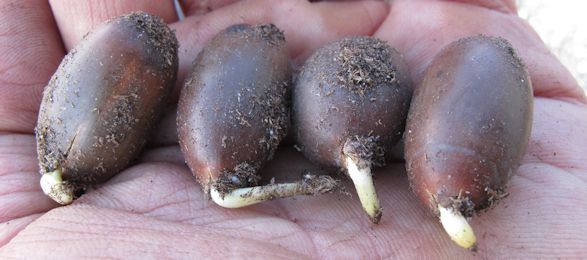 thicker than a pencil and over 10″ long.  The tops may grow slowly the first few years after planting out.  I have transplanted several around the nursery and our home in Peshastin, and hope someone will be enjoying a spreading 40′ Garry oak after I'm gone!