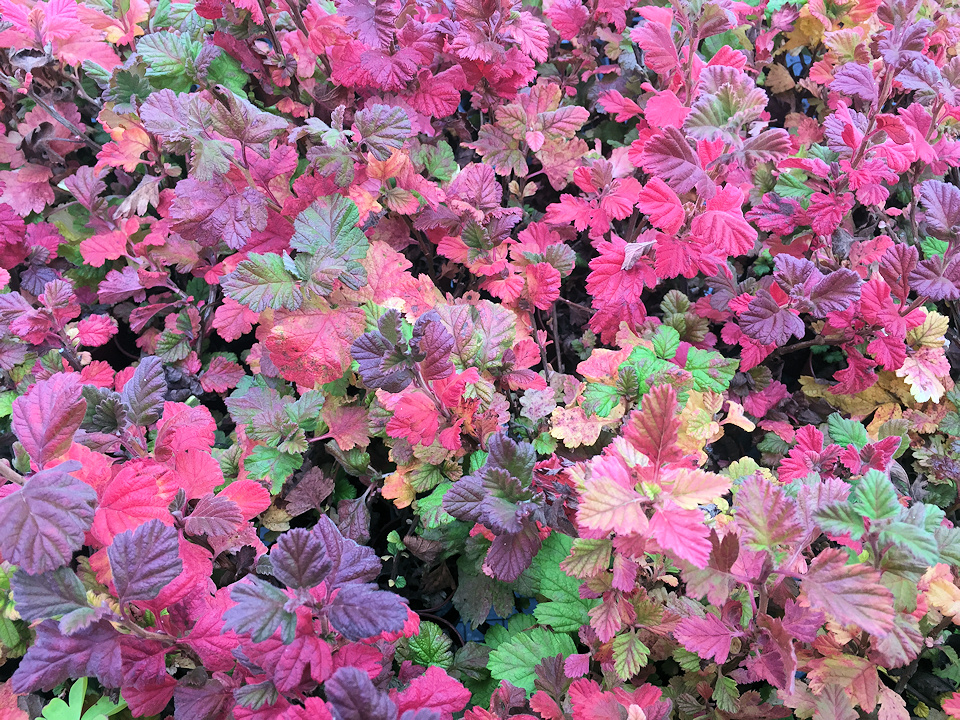 Pacific nine bark (Physocarpus capitatus) with fall color in the nursery
With the lowering of the sun's angle, and the yellow school buses on the roads, we have signs that fall will soon be here.  This is a great to time to plant natives, especially in the "golden" period from mid-September to late October.  The soil is still warm, encouraging root growth, yet  the shorter and cooler days put little stress on the new plants, which have by now ceased active top growth.  Fall planting provides plants with a head start, getting their establishment underway so they can best take advantage of of late winter and spring soil moisture.  This is of particular importance in wildland or other plantings where irrigation is limited or not possible.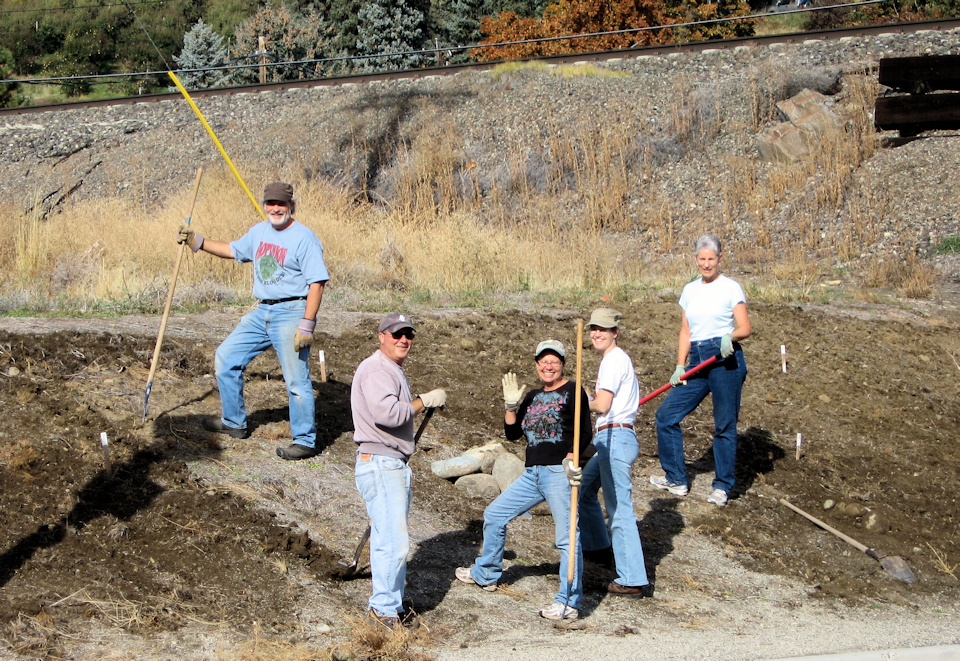 Happy Peshastin fall planting crew
Fall flowers are of great importance to pollinators still active as the days shorten.  One of the best plants for the landscape in this regard is gray rabbitbrush (Ericameria nauseosa).  This shrub is super drought tolerant and easy to grow, with dense gray-green foliage for most of the year and, with minimal pruning, forms an attractive compact shrub three to five feet tall.  The abundant yellow flowers appear in early to mid-September and last well into October.  On a warm day in the nursery these flowers are swarmed with all sorts of pollinators, including several bee species, syrphid flies, skippers and other late butterflies.
A favorite tree of mine is the Rocky Mountain juniper (Juniperus scopulorum).  Fall is an excellent time to get this tree in the ground.  With its dense growth, compact pyramidal shape and blue-green color, it is an attractive small (20-30′ tall) tree for the landscape.  It is very tolerant of sun, wind and drought.  In our area, it is found mostly on dry sites near the Columbia River.  It is also a great tree for wildlife, providing refuge from predators for small birds and thermal cover in summer and winter.  Many birds love the juniper berries that form on female trees.  I get my trees from a friend near Bridgeport who has flocks of cedar waxwings deposit Rocky Mountain juniper seeds in his garden beds, after devouring the berries from nearby stands.  The next spring he "weeds" the newly emerged juniper seedlings from his garden, pots them up and sells them to me, a good deal for birds and people alike!
Rocky Mountain juniper (Juniperus scopulorum), sixteen feet tall after seven years
We expect to have a busy fall at Derby Canyon Natives, with many plants leaving for projects around the region.  Come see what we have, from flowers, grasses, shrubs and trees; we are open fro retail sales Fridays 9-5, Saturdays 8-12N and by appointment.