The nursery viewed anew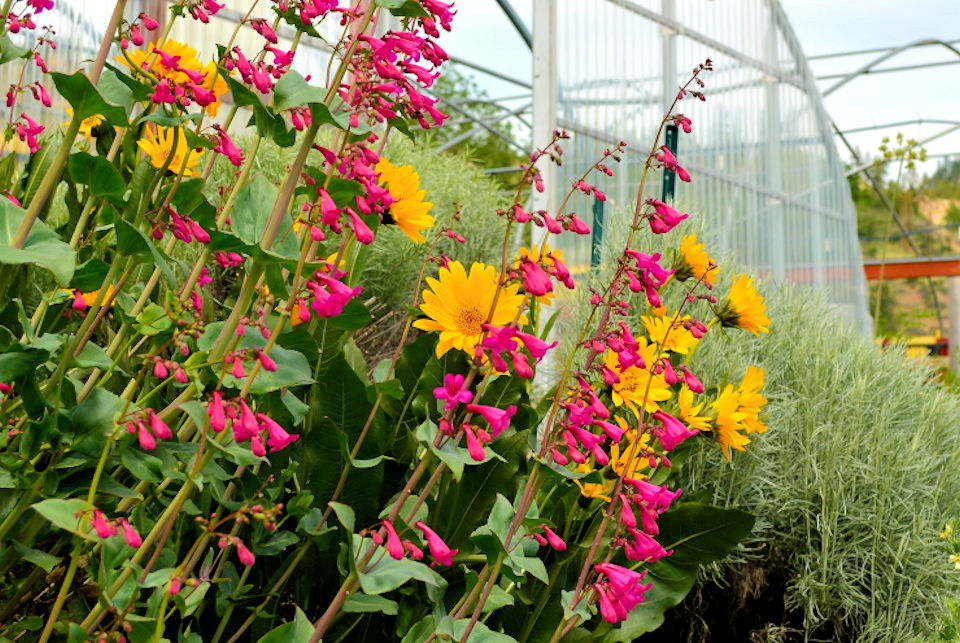 The month of May is a beautiful time for the native flora of Central Washington, from the shrub-steppe to the mountains – and in the nursery!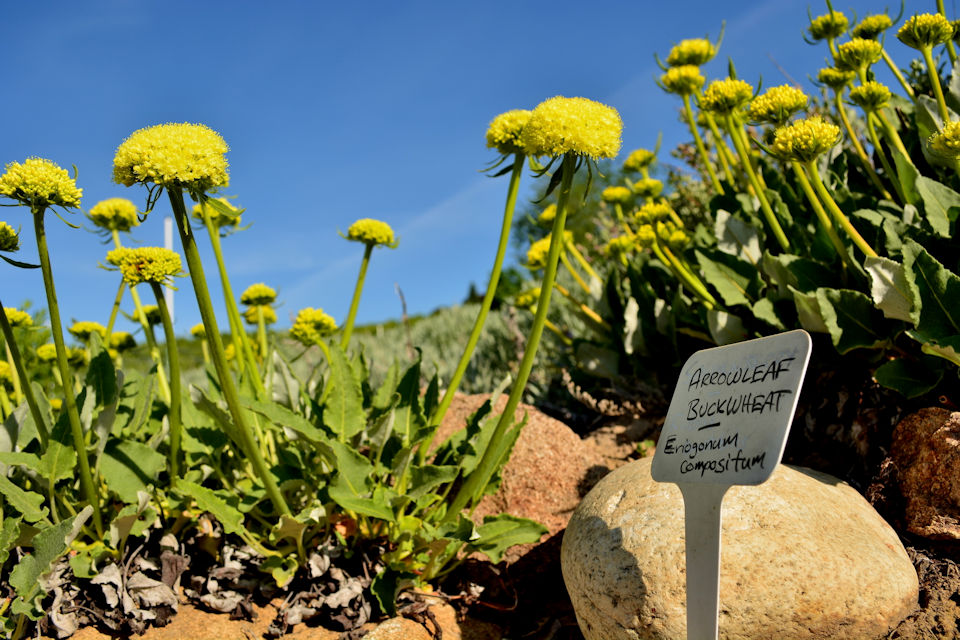 Employee Erin Carlson has a keen eye for the plants, seeing them in her own way.  She spent some time on a recent morning, wandering with her camera, and I'm pleased that I can share some of her photos here.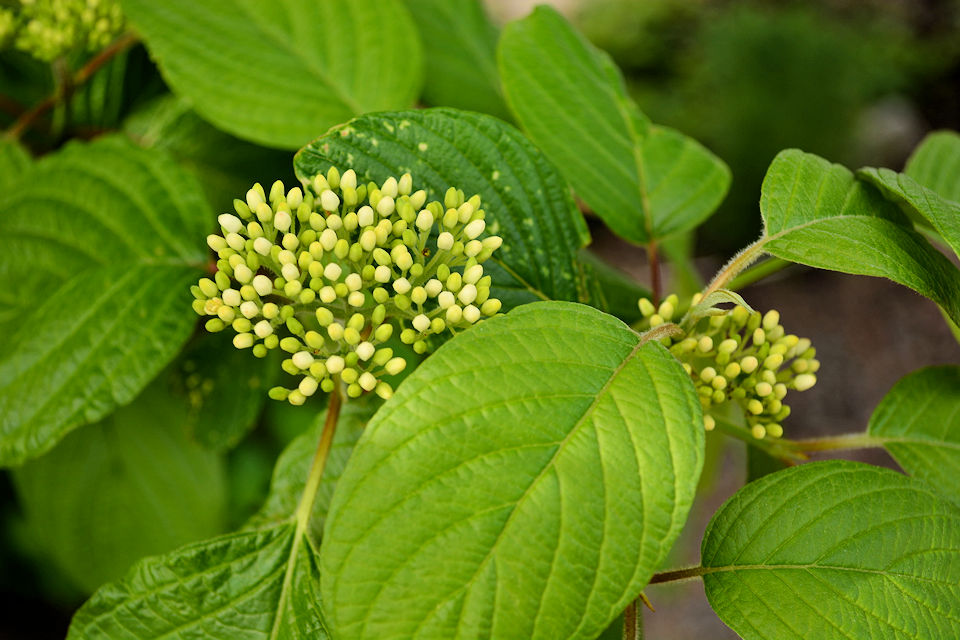 Red osier dogwood (Cornus stolonifera) flower buds just prior to bloom.  This shrub is great for birds and lovely all year long with white flower clusters, the abundant berries, great fall color and the brilliant red stems in winter.  Here we see another, less obvious part of its beauty.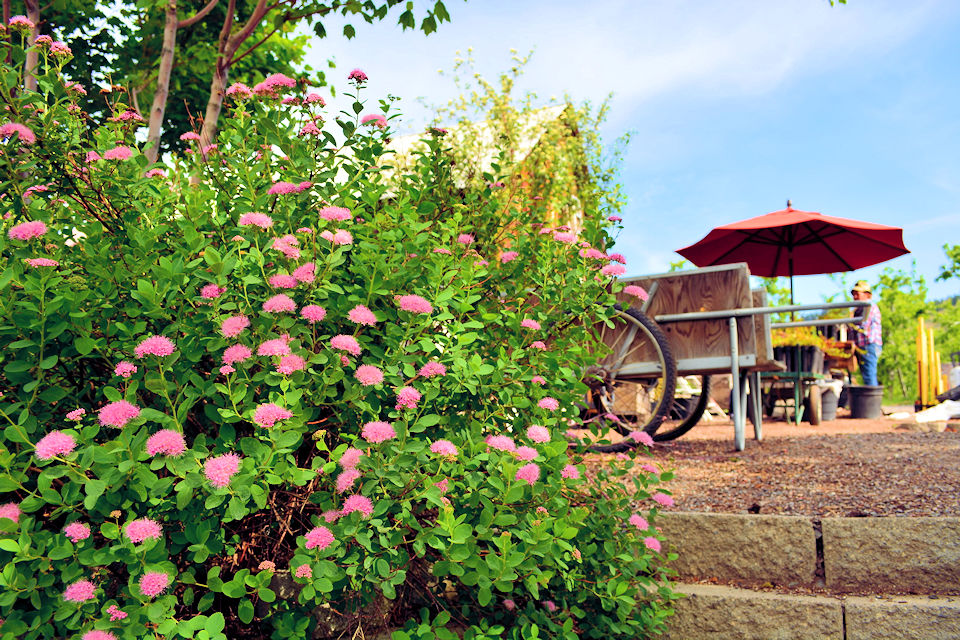 The pink flower clusters of the subalpine or rosy spirea (Spiraea splendens) grace the edge of the transplanting area.  This small shrub, no more than 3′ tall and wide, grows well in the garden and behaves itself (i.e. it doesn't spread all over like its larger cousin Spiraea douglasii).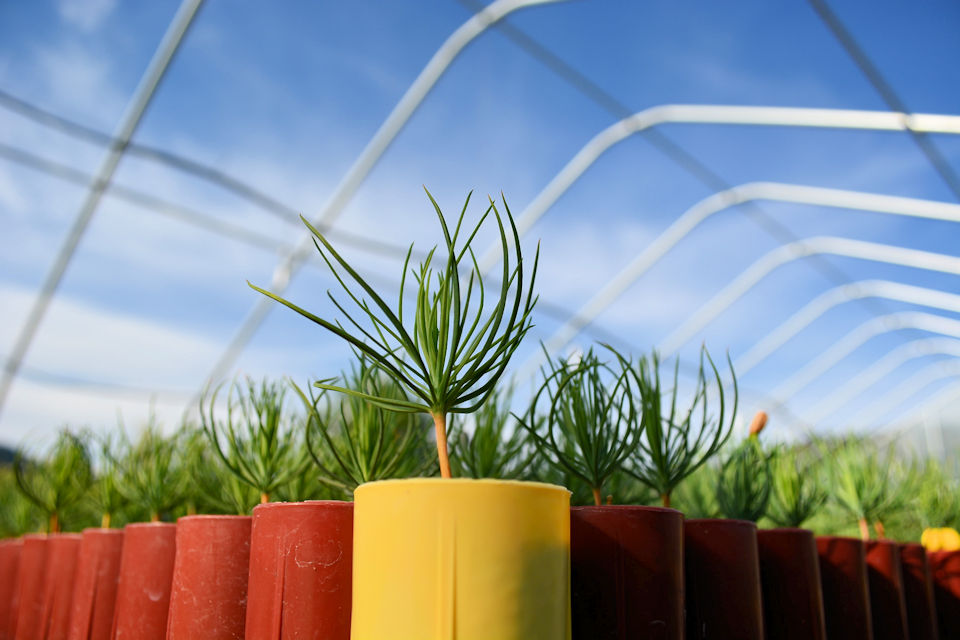 We grow thousands of Ponderosa pines (Pinus ponderosa) every year, and they all start as little seedlings like these.
Follow the leader in the yellow tube!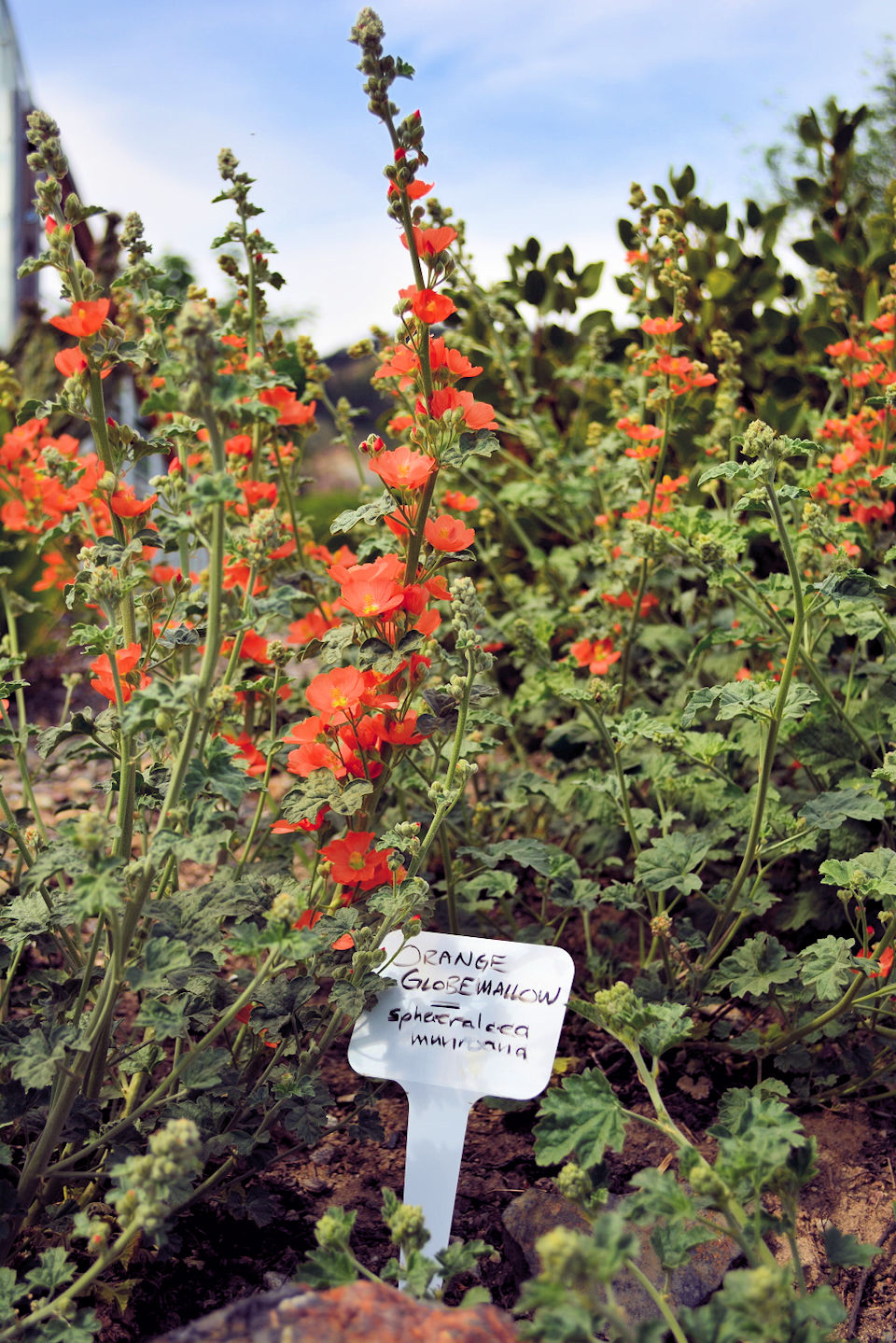 Orange globemallow (Sphaeralcea munroana) has a flower color not found in any other wildflower in our area.  I first saw them some 30 years ago, blooming on a hot day in the hills above Brewster; I had to stop the truck and wander out among the plants spread across a rocky flat.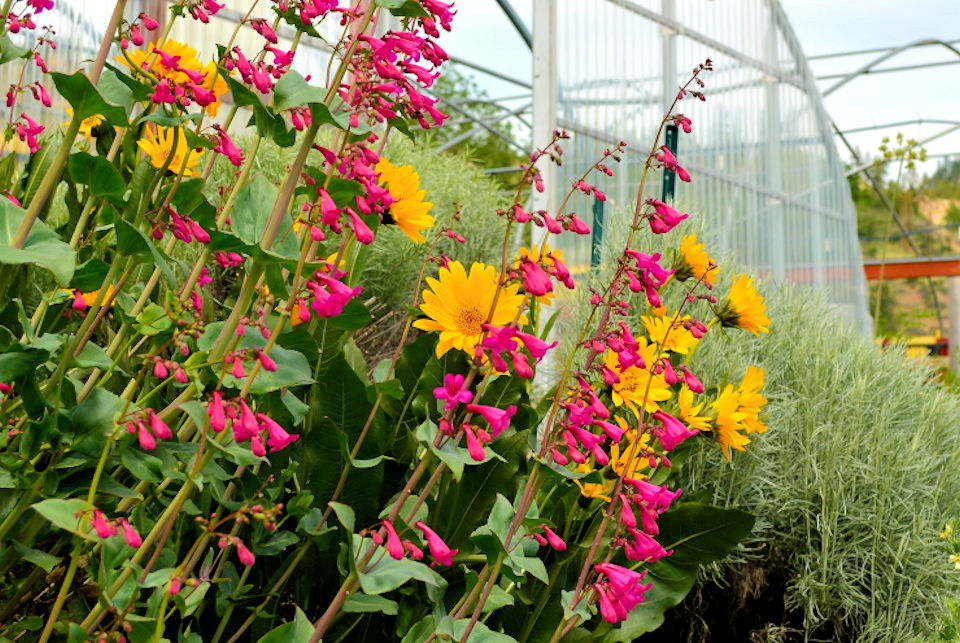 Here are three species you don't ever see growing together in the wild… but they do at Derby Canyon Natives!  The gorgeous rose pink flowers of the desert beardtongue (Penstemon pseudospectabilis), from the desert Southwest, combine with the yellow flowers of northern mule's ears (Wyethis amplexicaulis) and the fine gray leaves of gray rabbitbrush (Ericameria nauseosa), commonly found in shrub-steppe and desert areas across the West.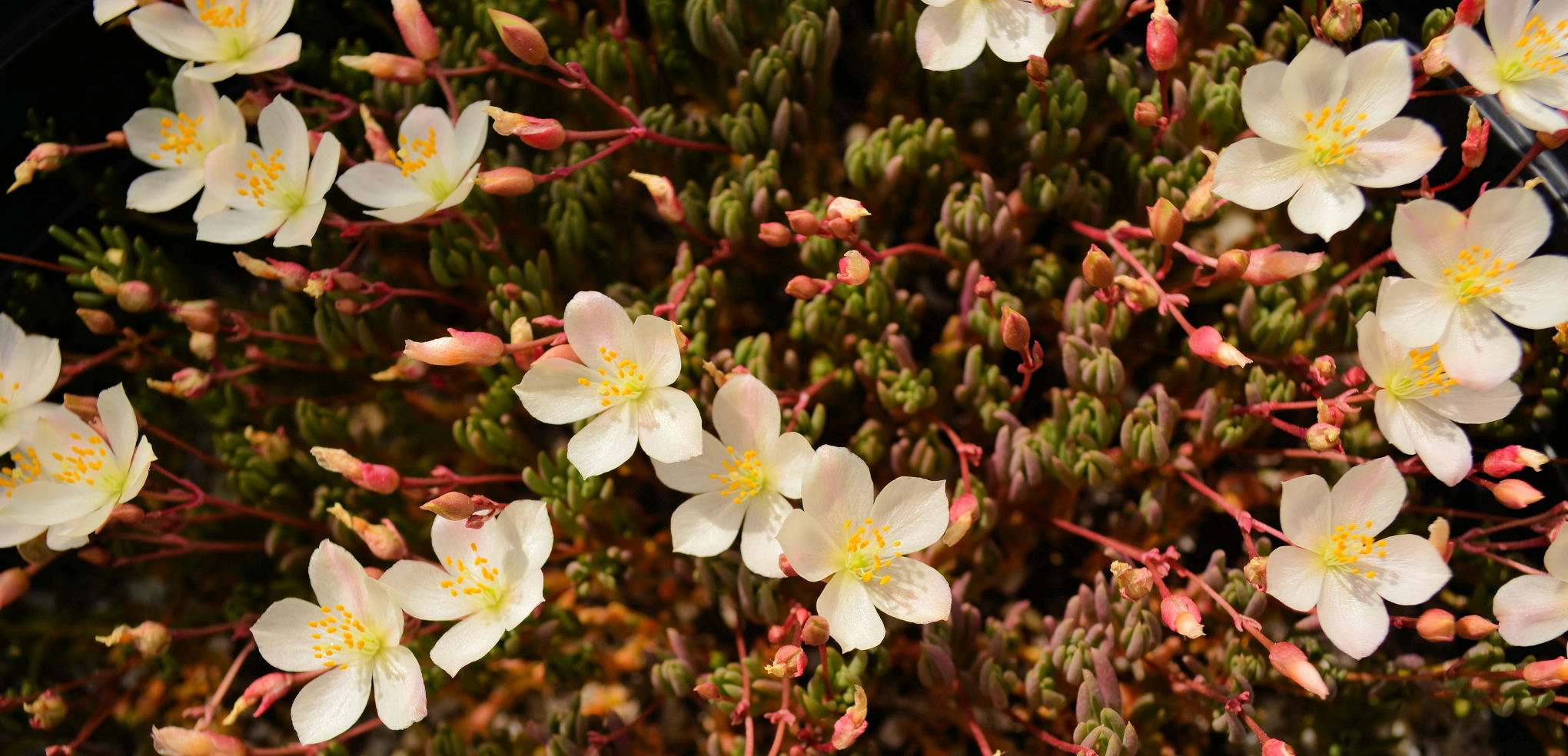 The Okanogan fameflower (Phemeranthus sediformis) comes from rocky, exposed areas in far northern Okanogan and Ferry counties, and is a choice and easily grown plant for a rock garden.  Only 1/2″ high, it will spread 8″ or more.  The cheery, white flowers open when the sun is high in the sky.